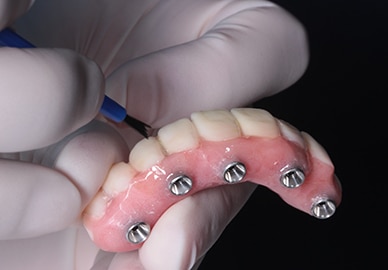 An implant-supported overdenture (aka implant-supported denture or clip-on denture) is a complete or partial denture that 'clips' onto dental implants which anchor it in place. The dentures also rest on your gums. Alternatively, conventional dentures sit on the gums and are not attached to implants.
Implant-supported dentures are incredibly convenient and can be easily attached or removed by the wearer whenever they please – which also makes cleaning easy. Cost is also a consideration for many of us.  And implant-supported dentures are also less expensive than some permanent, fixed bridge implant options, such as the All-on-4.
You can have implant-supported dentures on either your upper or lower jaw. They are a popular option for the lower jaw, though; conventional dentures are more unstable in the lower jaw, causing numerous problems when talking, eating or socialising.
Types of implant-supported overdentures
There are two main types of implant-supported overdentures:
Bar-retained overdentures: A thin metal bar connects between implants (usually anywhere between 2 to 5), placed in your jawbone. There are clips or attachments fitted to the bar, denture or both. The denture then clips into place by the attachments.
Ball-retained overdentures: Like press studs, each implant fused in the jawbone has an attachment (either male or female) that clips onto the denture with the opposite attachment (female or male).
Benefits of implant-supported overdentures
Implant-supported overdentures are incredibly popular because they have many benefits: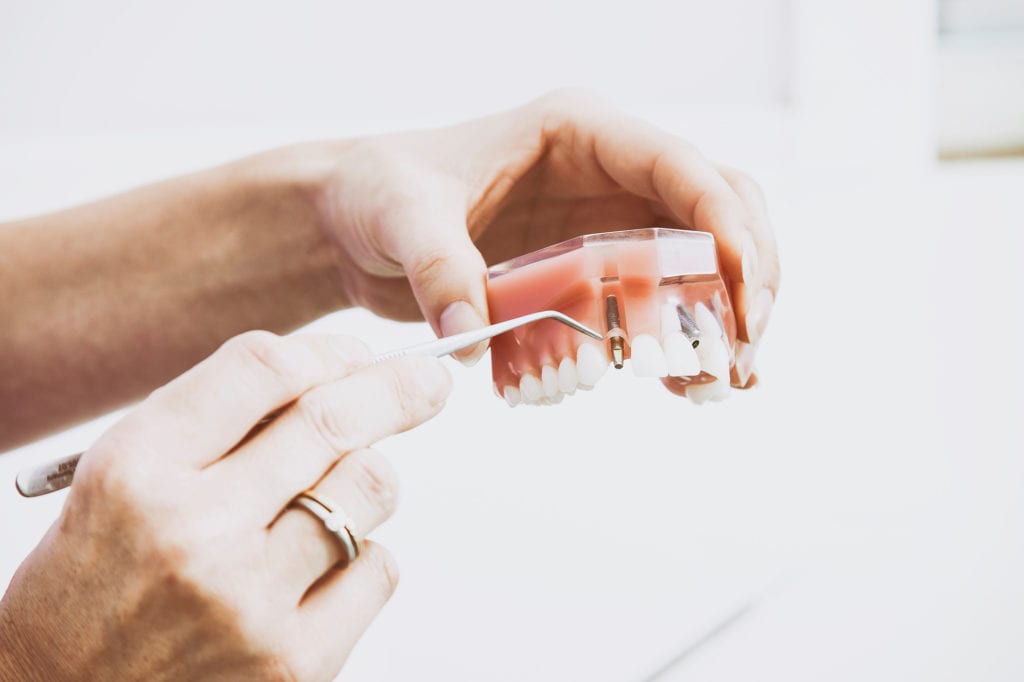 What are dental implants?
Also known as tooth implants, dental implants are tiny pieces of metal that look like a screw. The implant is placed into the jawbone, beneath the gumline. Over time, the bone tissue integrates with the implant in a process known as 'osseointegration'. Once this integration has occurred, the implant is supremely stable, acting like a natural tooth root.
Am I a candidate for dental implants?
Most people can have dental implants. Providing you are in good health, have enough bone tissue (more on that below), don't have gum disease or any serious medical conditions, you should be able to proceed. However, some people have conditions which may make the journey a little more difficult or sometimes impossible.
Here are some conditions which may make  prevent you from having implants:
patients with untreated diabetes
patients with certain cancers such as bone cancer
patients taking medications called biophosphonates (e.g. Fosomax) which are used to affect conditions of the bones such as osteoporosis or Paget's disease. (If you are taking this type of medication though, you might still be able to proceed with implants. Discuss this issue carefully with your medical specialist.)

Importantly, adequate bone tissue is essential for dental implants. Implants are surgically placed into your jawbone and must have enough surrounding bone tissue to support the implant. To find out if you have enough bone, visit your dentist. They can examine your mouth and gums, and also take 3-D x-rays and CT scans. If you don't have enough bone, you might be eligible for a bone graft to remedy the situation. Providing the graft is successful, you could then proceed with your dental implants procedure.
Book an Appointment Today
Talk to us about dental implants. We're registered with all health funds and is a preferred provider with BUPA, HCF & Medibank Private.