Eco-Friendly Oral Care: Saving Your Teeth & the Planet!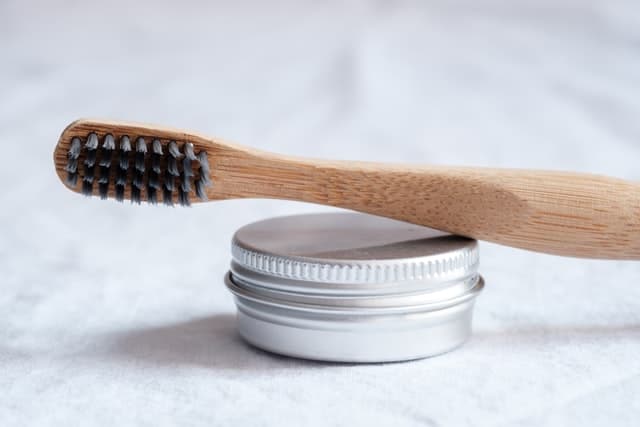 If we want to care for our teeth, brushing twice a day with fluoride toothpaste and flossing once a day is a must. And if we'd like to care for the planet, we need to stay away from plastics and problematic chemicals. Until recently, though, most oral health products contain plastics, posing a bit of a problem. That's why the oral health industry is turning a corner by offering products that can let us do both. Some of these products are promising. But others, less so. Eco-friendly dental products can be good –providing they protect your oral health.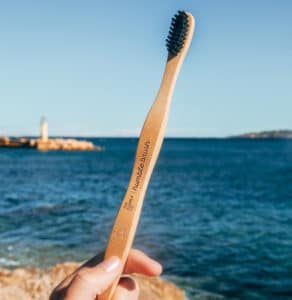 Look inside the average bathroom cabinet, and you'll notice a proliferation of plastic throughout your cosmetics, creams and dental products. There are plastic toothbrushes, and the toothpaste tube is likely both plastic and metal. Dental floss? Plastic and non-biodegradable materials. Although it doesn't seem like a lot, according to the Guardian, each year, consumers go through 20,000,000,000 packs of toothpaste.
In Australia, over 50,000,000 tubes go into landfill annually.
And let's talk toothbrushes. Dentists recommend we change toothbrushes every 3 to 4 months. But the problem with throwing out our toothbrush is that over 1,000,000,000 plastic toothbrushes are thrown into landfill or the ocean. Alternatively, a bamboo toothbrush with castor bean bristles can compost in your backyard.
Smiles for Good: Colgate-Palmolive goes eco-friendly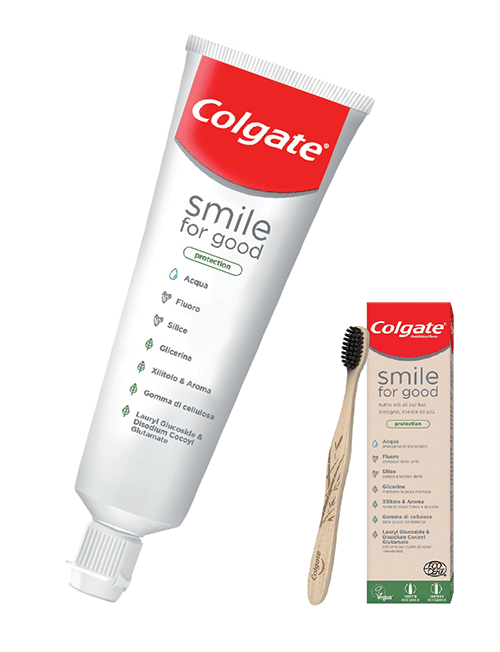 Dental product giant Colgate-Palmolive has launched an industry first with a vegan-approved toothpaste in a recyclable tube. As dentists, we're keen on toothpaste rather than the new, eco-friendly toothpaste tablets (see below). Toothpaste has been pre-formulated, making it easy to get all the ingredients in the product (especially fluoride) on your teeth – and not swallowed or spat out before it's had time to do its job on your teeth.
Previously, toothpaste tubes were renowned for being impossible to recycle as they're made from a mixture of plastic and aluminium. Considering that consumers worldwide go through 20,000,000,000 packs of toothpaste, you can see why the big brands have sat up and taken notice.
The new Smiles for Good tubes are made from high-density polyethene – the same material as plastic milk containers but more flexible. Best of all, you can pop them in your yellow recycling bin. But it does come at a price. The Australian RRP is $8. (However, at time of publication, Woolworth were discounting them to $4 a tube. Shop around!)
They've also tackled the plastic problem with a bamboo charcoal toothbrush and dental floss packaged in recyclable cardboard. (RRP $8) We aren't sure why they include charcoal-infused floss tip bristles, though (we suspect it's for fashion), and we don't endorse charcoal on teeth.
Eco-friendly toothbrushes
Toothbrushes have been synonymous with plastic. As we advise you to change toothbrushes every 3 to 4 months, they create an eco-friendly headache before leaving the gate. Enter: the bamboo toothbrush. The benefit here is that some of these can compost completely in your backyard or compost bin.
Parla – Have released a bamboo brush that is a hundred per cent plant-based and fully compostible at home.
GO BAMBOO – Sells a range of bamboo toothbrushes sealed with edible wax. The box and toothbrush are recyclable. Bristles are made from recyclable polymer.
JACK' N JILL – Offer a biodegradable children's toothbrush. Handle is 100 per cent biodegradable cornstarch with nylon rounded bristles. The packaging states it's BPA and PVC free.
Preserve – Don't produce bamboo toothbrushes but instead offer recycled toothbrushes made of recycled plastic (from recycled yoghurt cups). Vegan and cruelty-free.
Toothpaste tablets
"As dentists, we can't comfortably recommend toothpaste tablets…"
Described by some as a 'sustainable oral health solution', toothpaste tablets have quietly shuffled into the market. So if you're keen to help the environment, they do seem attractive. But there are a few reasons why they haven't taken off in a heartbeat.
As dentists, we can't comfortably recommend toothpaste tablets. There is a lack of vigourous scientific research on these new products so the verdict isn't clear. Also – a quick note: as they crush into a powder, we wouldn't recommend them to asthmatics or those with respiratory issues.
The idea of a tablet is good: they don't require a metal or plastic tube, come in a compact, eco-friendly container, and use less water in manufacturing. But many don't contain fluoride – which is hugely concerning as fluoride is still the best thing for strengthening our tooth enamel and keeping plaque and bacteria at bay.
Another advantage with toothpaste is that it has been pre-formulated with just enough water to make a nice paste. Toothpaste tablets require water. Too much water will delete the active ingredient, fluoride (if the tablet actually has any fluoride). Consequently, you may not get enough of the good stuff on your teeth. Alternatively, if you use too little water, the product could be quite abrasive which is damaging for teeth (wearing enamel) and gums (encouraging gum recession).
Toothpaste tablets are reportedly also not that satisfying. They've been described as chewing a mint flavoured Panadol – or biting into a piece of chalk, which hardly leaves you beaming with that 'fresh breath confidence'. And many reviews claim that teeth aren't left feeling clean or are feel gritty with residue.
If you're still desperate to give them a try – keep them away from kids under the age of 12. They may think they are lollies and swallow them. And fluoride should not be ingested as it can be toxic in much larger doses than we absorb using toothpaste.
Brands offering toothpaste tablets
Choose Good – seem to be leading the way in eco-friendly oral care here in Oz. Their toothpaste tablets include fluoride – although slightly less (905 ppm) than the recommended amount in Aussie toothpaste (1000-1500 ppm). The Rivermint version looks better, although we would avoid the charcoal formula as it can be extremely abrasive on teeth.
Parla: UK company Parla has released toothpaste tablets, and they contain fluoride. According to their website, they are a "sustainable range of plastic-free, cruelty-free oral care products that are designed by dentists."
Non-plastic Beach – offer chewable fluoride toothpaste tablets in a tin, packaged in a cardboard box. Zero plastic.
Dental floss
Choose Good – have a natural silk floss that is 100% compostable and comes in a refillable pack. Everything is 100 % plastic-free with a recyclable container and compost of or packaging.

grin  –  adult biodegradable dental floss picks made from tear-resistant PTFE and 100 per cent biodegradable cornstarch handle.

Ecoy silk floss – 100% biodegradable. Sold in a glass container. Floss is 100% Mulberry silk.

Colgate – Smile For Good Floss comes in a 100% recycled carton. Vegan dental floss with natural wax. Sugar-free and gluten-free. Carton and container made from 100%recycled materials. The plastic floss container is 100% recycled plastic.
Speak to your dental professional
Eco-friendly oral care is beginning to look possible. But beware – there are loads of 'alternative' health companies out there pushing products that don't make the grade. DON'T listen to your friends or believe what you read on Instagram. Speak to your dentist as it's a confusing time. Show us the products you're interested in– and let's chat!